Vehicle Repair
The local choice for servicing, repairs and MOTs
Whether it is engine problems, diagnostic issues, clutch replacement, brake replacement, gearbox repairs, suspension repairs or replacement, turbo repairs or replacement, air conditioning servicing or auto Electrics our team can deliver the highest quality results at affordable prices.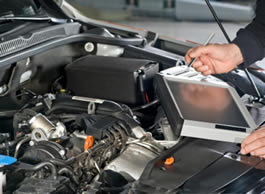 - Minor body repairs
- Engine diagnostics
- Engine tuning
- Exhaust systems
- Tyres and brakes
- Lights and level check
- Battery and alternator check
- Engine rebuilds
Diagnostics
Cars today are controlled by technology of increasing complexity that presents an ever greater challenge to the knowledge and skills of all mechnics and technicians.
It's not unusual today to find even a mid range car with more than 10 computers or controllers, these computers control Engine, ABS, Traction Control, Climate Control, Instrument Cluster and a great deal more. Our well-equipped workshop utilises the most up-to-date diagnostic equipment and tools to ensure we are able to diagnose faults quickly and efficiently.